Yes that's right, you can use your Sears Mastercard anywhere that Mastercard is accepted (which is pretty much anywhere).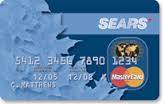 Obviously if you use your card at Sears, or associated companies, you earn points, up to 2% every time you shop. One thousand points equals $10 to spend on anything at Sears, including travel. You can also choose to donate them to Sears in your community.
As you probably know, f you use the card elsewhere you won't gain these points so it might be beneficial to check if Sears stocks an item before buying it from another store or website, but there is certainly nothing to stop you using it worldwide in any store.