The eight concerts held around the world on July 2nd 2005 are known as the Live 8 concerts and were held to coincide with the 31st G8 conference, due to take place later that week in Scotland.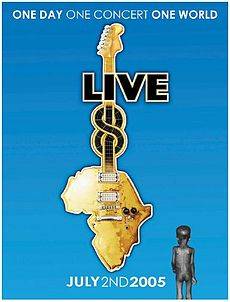 The concerts took place in the eight different countries represented at the G8 summit: The UK (Hyde Park, London; The Eden Project, Cornwall); France (Chateau de Versailles, Paris); Germany (Siegessaule, Berlin); Russia (the Red Square, Moscow); the USA (Benjamin Franklin Parkway, Philadelphia); Canada (Park Place, Barrie, near Toronto) and Japan (Makuhari Messe, Chiba).
An additional concert took place in South Africa (Mary Fitzgerald Square, Johannesburg) so that the continent of Africa would be represented.
A final concert also took place on July 6th 2005 in Edinburgh, Scotland, to represent the area of the UK in which the G8 summit was held. 
Performers at the London Event
The London concert alone was one of the most spectacular line-ups ever assembled for such any event. Acts included: U2, Sir Elton John, Sir Paul McCartney, REM, Coldplay, Madonna, Joss Stone, Snoop Dogg, Maria Carey, The Who and, in their last ever performance in their original line-up, Pink Floyd. There were also speeches from Kofi Annan, Bill Gates, David Beckham and organizer Bob Geldof. Over 200,000 people attended this concert alone.
Relive Pink Floyd's appearance by watching them here: